Credit Cards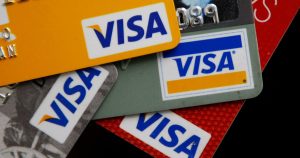 The credit union offers VISA Classic and Platinum credit cards to qualifying members with the following features:
Classic – 10.9% APR (annual percentage rate)
Platinum – 8.9% APR (annual percentage rate)
Start Up – 14.9% APR (annual percentage rate)
No annual fee
25 day grace period (on all purchases)
Platinum – ScoreCard bonus points, Concierge Service, and Travel Accident Insurance
If you are tired of paying high interest credit cards, transfer the balances over to your credit union Visa. We will be happy to help. Just bring in your statements and we will take care of the rest.
A Lakeshore Federal Credit Union Visa allows you access to funds and purchases whenever and wherever you travel. Apply today!
Other features available with our credit cards:
Account Access – Cardholders have 24/7 access to their Visa Credit cards, including available balances and transaction history from the convenience of their personal computer or mobile device.
Card Controls – Members enjoy greater security with our Card Controls. You can disable your lost or stolen Visa cards immediately right from your mobile phone! Just download our mobile app from iTunes (Apple) or Google (Android).
EMV Chip Security – All of our Visa credit cards feature EMV microchips to better store and protect your personal account information.
Lost/Stolen VISA Cards
If your card is lost or stolen, call:
(231) 755-1202 – 9:00 am to 5:00 pm EST Weekdays
1-866-333-4740 After hours and weekends
Access the Card Controls feature on our Mobile App from your mobile phone or tablet for immediate action

Go to main navigation